Due to the COVID-19 pandemic there may be changes or disruptions to the current leagues & league events scheduled. Please call the clubhouse at 780-586-2254 to confirm.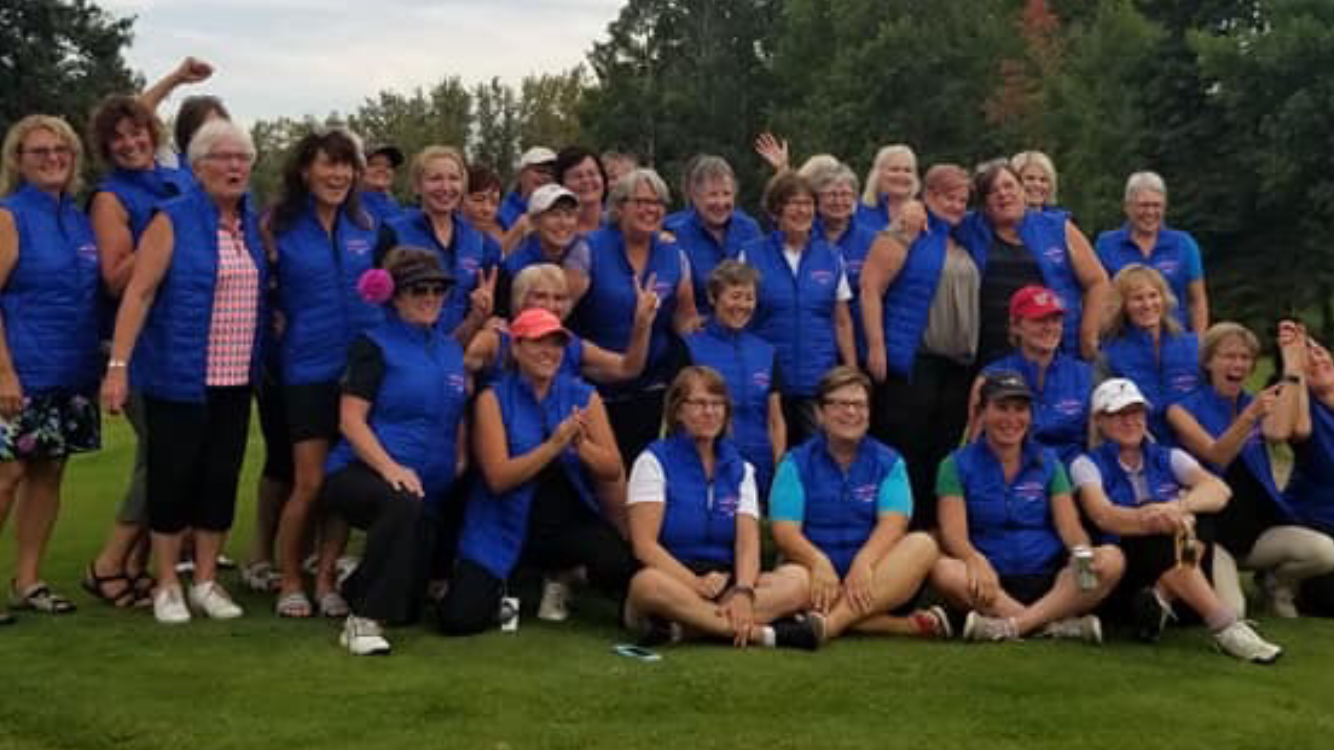 The Black Bull Ladies League has proven to be the most fun women can have on a golf course! The Black Bull is committed to providing an affordable, non-competitive environment that is supportive and encouraging for women of all skill levels. The main focus of this league is fun, camaraderie, and providing an atmosphere for women to socialize while enjoying a common interest.
The Black Bull Ladies League plays every Thursday evening in a 2-lady best ball format, shotgun start from mid-May to mid-September. The League commences with a Wine & Cheese registration and information evening and concludes with a League Wind-Up that is sure to not be forgotten.
Women of any age and caliber are welcome. Theme nights, prizes designed for all skill levels, toonie pots, 50/50's, special events, mini tournaments, drink specials, ladies only meal specials, and an opportunity to win complimentary unrestricted golf memberships are just a few of the things you can expect from this league.
For more information, to register for the league, or to RSVP to the Wine and Cheese, please contact us at [email protected]
Mission Statement
Our goal is to provide a friendly, supportive, and welcoming environment that is not intimidating or judgmental. 
To welcome women of all skill levels and to grow the game of golf amongst women. 
Forming new friendships, being respectful to each other, and encouraging good sportsmanship amongst members. 
Striving always to ensure our ladies league is a fun and enjoyable one. 
Helping others and providing excellent service while continuously growing and improving our league to one we can be proud of for many years to come.
League Fees
| | | |
| --- | --- | --- |
| CATEGORIES | EARLY BIRD PRICE | REGULAR LEAGUE PRICE |
| BLACK BULL MEMBERS | $175.00 | $225.00 |
| NON-MEMBERS | $335.00 | $385.00 |
Prices include: league golf and power cart rental for the season (mid-May to mid-September), prizes, and the year-end wind-up & banquet.
Prices do not include optional buy ins (50/50's, toonie pot, drink specials, nightly meals or GST)
League Rules
Wine & Cheese